William S Boyd Law School Pilots Classroom A/V to Gauge Faculty Response
The school tested out projectors, a digital media system and LCD displays before committing to an A/V design.
Photos & Slideshow
William S Boyd Law School Pilots Classroom A/V to Gauge Faculty Response
Latest News
University of California Scales Video Wall Obstacles with New Peerless-AV Video Wall
The Learning Glass Studio Comes to San Diego State University
Lone Star College Installs World's First UltraHD Quadview Classroom
How Audio Visual Technology is Changing the Face of Varsity Sports
Latest Resource
6 Reasons Why Your Space Needs a Lampless Projector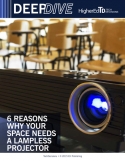 Lampless Projectors Are Appearing Your Conference Room, Classroom and Worship Space
Dan Daley
·
April 17, 2013
The William S. Boyd School of Law at the University of Nevada, Las Vegas (UNLV) hadn't refreshed its A/V technology in about 10 years. The audio and video systems that had been installed a decade earlier were state of the art at the time, but 10 years in an eon for technology and the school was in need of an upgrade. Scott Menter, manager of UNLV's Classroom technologies Services Department and Frank Alaimo, the school's A/V systems
specialist, decided to enlist the help of a consultant. They met with Las Vegas-based Coherent Design to discuss what new technologies and platforms would be needed to give the law school a much needed edtech boost. Menter and Alaimo were also interested in allowing the school's educators to weigh in on technology purchases.
The solution they came up with was clever, though it tempted fate in terms of scheduling. Coherent would design the new A/V setup while CSS Presentation Systems, an A/V integrator, would install the systems in one lecture hall and in one classroom. These rooms are the two basic prototypes of the nine rooms that needed a tech overhaul. The main technology components of each room included a Crestron Digital Media Presentations System 300, which would allow both localized and central control of all media and lighting in the rooms and Panasonic PT-DW730U projectors, with one or two pairs of 55-inch Samsung MD55B LCD displays in each of the lecture halls to expand the viewing area for students seated on the extreme fringes of the widely raked seating areas.
The school kept the project's budget in check by capitalizing off existing equipment in the rooms. The previously installed Atlas ceiling speakers were deemed "keepable" as was the existing cable conduit. The rest of the audio system was buttressed with the addition of new Crown 1160A amplifiers and a BSS London Soundweb processor for equalization. Construction on the two pilot rooms began at the end of last year's spring semester, allowing the faculty to become familiar with the systems before classes began again the following August.
Design and Installation
A key element of the overall system's design was to make each space virtually identical to any other, so that room reassignments wouldn't be disrupted by an educator unfamiliar with the operation of a piece of equipment, and that each room be completely self-sufficient, able to source and run its own media systems independent of any other room or of the master control room that would act as the school's media hub.
UNLV's Classroom Technologies Services Department is part of the campus-wide Office of Information Technology. However, the law school operates as a separate entity, with its own IT department and A/V staff. In developing a basic A/V systems goal, the law school's director of IT and his team collaborated first with the campus' department, in part to make sure that whatever systems wound up in the Boyd School would also be compatible with the larger campus IT platforms. Those findings became the basis for Coherent's design.
Once the two pilot rooms were complete and teachers had had a chance to explore them, it turned out the design was quite sound, requiring very little in the way of adjustment. Along the
More About Chrissy Winske
Chrissy Winske is the K-12 editor for TechDecisions Media. She is also a contributing writer for Commercial Integrator, TechDecisions' sister publication. Chrissy joined the TD family in 2012 and has covered AV and IT trends, mobile learning, safety and security and the digital classroom. Get in Touch:

[email protected]

More by Chrissy Winske
Latest Resource
6 Reasons Why Your Space Needs a Lampless Projector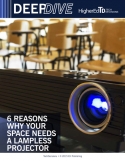 Lampless Projectors Are Appearing Your Conference Room, Classroom and Worship Space