Vaddio and Vidtel Partner on Cloud-Based Video Conferencing
Vidtel's MeetMe service is affordable and works with a variety of systems.
Latest News
The University of Liverpool Improves New Conference Space with Upgraded Audio
University of California Scales Video Wall Obstacles with New Peerless-AV Video Wall
The Learning Glass Studio Comes to San Diego State University
Lone Star College Installs World's First UltraHD Quadview Classroom
Latest Resource
6 Reasons Why Your Space Needs a Lampless Projector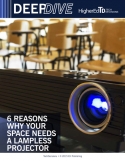 Lampless Projectors Are Appearing Your Conference Room, Classroom and Worship Space
TD Staff
·
March 21, 2012
When it comes to video conferencing, it can be hard to pick your favorite service. It can be even harder to pick the service that's going to be everyone's favorite. Instead of locking your entire organization into one service, Vaddio and Vidtel want you to meet MeetMe.
MeetMe is a cloud-based video conferencing service that uses room-based systems, executive desktop video systems, PCs/Macs, and mobiles using any combination of SIP, H.323, Skype and GoogleTalk technologies. In other words, users don't need to get locked into a specific service; it will work across whichever platform they are most comfortable using.
What's in it for Vaddio? Well, they make the EasyUSB camera, which just so happens to work with the MeetMe service. No bridges or exchange services are needed.
The Vidtel MeetMe video conferencing service is available immediately to Vaddio resellers. Pricing for the service starts at $199 per month, and varies based on the number of users and the choice between standard and high definition.
Latest Resource
6 Reasons Why Your Space Needs a Lampless Projector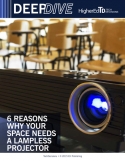 Lampless Projectors Are Appearing Your Conference Room, Classroom and Worship Space