Utah System of Higher Education Chooses New Learning Management System
One IT pro shares his journey from RFP to Purchase. Starting the process early and creating a clear method for evaluating vendors was key.
Photos & Slideshow
Utah System of Higher Education Chooses New Learning Management System
Latest News
Sister Site Commercial Integrator to Host Free Projector Webinar This Week
Apps Graduate from Teaching and Learning to Student Life Improvement
Projectors 101 — The Basic Knowledge You Need for Your Higher Ed Solution
TechDecisions Guide to 28 Short-throw and Ultra-short-throw Projectors for Higher Ed
Latest Resource
6 Reasons Why Your Space Needs a Lampless Projector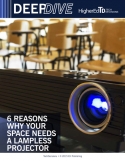 Lampless Projectors Are Appearing Your Conference Room, Classroom and Worship Space
Chrissy Winske
·
January 22, 2013
The Utah System of Higher Education (USHE) needed to find a new learning management system (LMS) before the start of the 2012 fall semester. Its current LMS, Blackboard Vista, had been discontinued and it needed a way to continue to deliver course content online.
"We actually license the learning management system that we use through the state on a consortium license so every higher ed public institution uses the same system," says Neal Legler, senior instructional designer at Utah State University. Utah State is one of five state universities and three state colleges in the USHE.
Choosing an LMS wasn't just a matter of testing out products, it was a matter of getting all eight
schools to agree on a new system. No small feat for such a large committee of representatives who had to decide on the required criteria for the new LMS and help to draft a Request for Proposal (RFP), all under a looming deadline.
The Search Process
In order to fully investigate their options before going to RFP, the consortium schools spent a year exploring different systems, testing demos of products and speaking with vendors.
"We looked at the next version of Blackboard. We looked at Desire2Learn. We looked at Sakai. We looked at eCollege. We looked at all the big players," says Legler. "By the time we went to RFP we had a pretty good idea of who was out there and who was going to respond."
The schools then each selected representatives who would meet and work together to draft a set of criteria for the new LMS. These criteria would serve as a starting point for the RFP and would let each manufacturer know what their system had to do to get a bid.
"We actually had quite a number of online and face-to-face meetings where we brainstormed," says Legler. "We would tell all the schools to send their top criteria and then we'd put those in an online poll and have everyone go in and vote."
The items that received the most votes became topics of discussion for a later meeting where the various representatives decided which criteria were most important or considered preferred. The final list had 14 preferred requirements including browser and mobile access, integration with third-party tools, 24/7 support for administrators, ease of use and accessibility. Each vendor that responded to the RFP was to have its product evaluated on a pass/fail basis regarding each requirement. This evaluation helped to weed out some of the vendors and narrow the choices for the representatives.
After putting together the list of requirements, the actual RFP was drafted by the Utah Education Network (UEN). The UEN connects all Utah school districts and higher education
More About Chrissy Winske
Chrissy Winske is the K-12 editor for TechDecisions Media. She is also a contributing writer for Commercial Integrator, TechDecisions' sister publication. Chrissy joined the TD family in 2012 and has covered AV and IT trends, mobile learning, safety and security and the digital classroom. Get in Touch:

[email protected]

More by Chrissy Winske
Latest Resource
6 Reasons Why Your Space Needs a Lampless Projector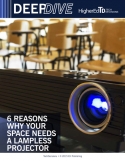 Lampless Projectors Are Appearing Your Conference Room, Classroom and Worship Space