University AV/IT Decision Makers Share Best Practices and Pain Points
SMU in Dallas was host to the Enovation Tour 2012 kickoff event put on by University Business magazine and sponsored by AMX.
Latest News
Apps Graduate from Teaching and Learning to Student Life Improvement
Projectors 101 — The Basic Knowledge You Need for Your Higher Ed Solution
TechDecisions Guide to 28 Short-throw and Ultra-short-throw Projectors for Higher Ed
The Institute of Culinary Education Serves Better Content Delivery with T2 Computing, iPads
Latest Resource
6 Reasons Why Your Space Needs a Lampless Projector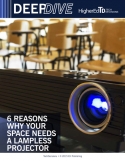 Lampless Projectors Are Appearing Your Conference Room, Classroom and Worship Space
Cindy Davis
·
March 1, 2012
ways, but the content management is still decentralized. While the technology is not new, the overall management is still being worked out.
On the SMU campus digital signage is very important. It is used in the sports areas and will be used in interactive way finding. In fact, SMU has plans to build an interactive Video Wall of Fame that will preempt the need for a dedicated building for a Hall of Fame. The goal behind the plan is to save money and facility space while utilizing technology that will engage a new generation of users.
Tuesday's roundtable proved a productive session for those involved and produced several notable takeaways not just for those who participated, but for IT decision makers and specialists throughout higher education:
* A monitoring system helps measure ROI by saving on staff needed to do a classroom visit and solving at least 50 percent of help desk calls remotely. It also saves prevents unnecessary equipment purchases and saves energy by being aware of usage. It was decided that one of the most important benefits of the monitoring system was the peace of mind from the instructors that their issues would be taken care of very quickly.
* Plan on a solid infrastructure and standardize on equipment.
* Collaboration and flexible learning spaces are becoming increasingly important on campus and more in demand by students. Not only in distance learning classrooms, but also in general student spaces where they can collaborate with students in remote locations.
* More and more distance learning classrooms will be created.
* Even though full automation and control systems can integrate all systems, none of the universities represented had integrated lighting and HVAC with their AV and IT systems for one simple reason: it is a territorial control issue.
* Building relationships with your faculty is key.
The day of round table discussions ended with an amazing tour of Jackson's pride — the SMU
Latest Resource
6 Reasons Why Your Space Needs a Lampless Projector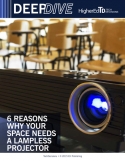 Lampless Projectors Are Appearing Your Conference Room, Classroom and Worship Space