University of California Irvine Extends Chemistry Education Through MOOCs
UCI's director of OpenCourseWare talks about building their award-winning massive open online course.
Latest News
Mills College Installs New Sound System to Support Musical Experimentation
Sister Site Commercial Integrator to Host Free Projector Webinar This Week
Apps Graduate from Teaching and Learning to Student Life Improvement
Projectors 101 — The Basic Knowledge You Need for Your Higher Ed Solution
Latest Resource
6 Reasons Why Your Space Needs a Lampless Projector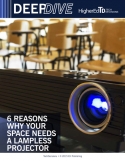 Lampless Projectors Are Appearing Your Conference Room, Classroom and Worship Space
Rachel Cericola
·
January 10, 2014
Getting an education no longer means quitting your day job or setting the alarm to drag your zombie-like body to class. Massive open online courses (MOOCs) are making education more convenient and more available to the masses.
MOOCs and university-created OpenCourseWare are online classes, which are put up on the Web to reach a large audience, whether it's actual students or people wanting to learn from halfway around the world. It's basically free education for the taking.
"The Internet kind of changed everything," says Larry Cooperman, director of OpenCourseWare at University of California, Irvine. "Once we had the ability to put up PDFs and other things, people started putting up content freely. Then, people discovered all of the various benefits of doing that: benefits for learners and the benefits for institutions that put it up."
Cooperman knows those benefits quite well, since he also serves as the president of the OpenCourseWare Consortium. This non-profit organization comprises 300 universities around the world, all of which are looking to spread education by advancing MOOCs and OpenCourseWare.
The OpenCourseWare Consortium was incorporated as an independent non-profit back in 2008. Two years before that, UCI launched its OpenChem program. This free, online program currently provides access to every single chemistry class that UCI offers towards an undergraduate degree. And it's insanely popular. When it first launched, the OpenChem website received some pretty decent traffic for the 10 courses that were being offered. However, in the past seven years, the program has really grown. In fact, UCI recently received the Distance Education Innovation Award by The National University Technology Network (NUTN), for OpenCourseWare and the school's OpenChem program.
Today, the project commits to 12 courses per quarter and a few special events, which translates into about a million website visits per year. "There are other sites involved, so it understates our total impact," says Cooperman. "However, it's a good way to start anyway."
How It Works
It's also an easy way to start, at least in chemistry. OpenChem doesn't require enrollments or any sort of fees. All you need is a Web browser. The current OpenChem website has a list of the courses that are available. Just click, and start learning. OpenChem is designed for what Cooperman calls "lifelong learners—or people who are learning at any stage in their lives with opportunities that would otherwise not be available." In other words, you don't even need to know anything about chemistry to appreciate what's available.
"We understand that to make this useful, we can't start at the level of a successful UCI
More About Chrissy Winske
Chrissy Winske is the K-12 editor for TechDecisions Media. She is also a contributing writer for Commercial Integrator, TechDecisions' sister publication. Chrissy joined the TD family in 2012 and has covered AV and IT trends, mobile learning, safety and security and the digital classroom. Get in Touch:

[email protected]

More by Chrissy Winske
Latest Resource
6 Reasons Why Your Space Needs a Lampless Projector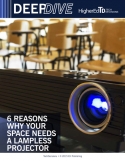 Lampless Projectors Are Appearing Your Conference Room, Classroom and Worship Space