Study Says Video Conferencing Boosts Productivity
According to Frost & Sullivan, video conferencing can also decrease operating costs.
Latest News
University of California Scales Video Wall Obstacles with New Peerless-AV Video Wall
The Learning Glass Studio Comes to San Diego State University
Lone Star College Installs World's First UltraHD Quadview Classroom
How Audio Visual Technology is Changing the Face of Varsity Sports
Latest Resource
6 Reasons Why Your Space Needs a Lampless Projector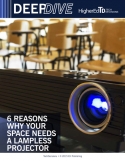 Lampless Projectors Are Appearing Your Conference Room, Classroom and Worship Space
TD Staff
·
March 1, 2012
As your organization expands, you may need to think outside of the box—or at least outside of the building. Meetings can't always be face to face, so a few of you are tapping into the power of video conferencing. Now, it seems to be paying off in more ways than one.
According to a new study by Frost & Sullivan, video conferencing isn't just convenient, but it can actually reduce costs and boost productivity. The study, "Value of Video Collaboration: Critical Steps for Supporting Social Business," says that this type of technology allows users to communicate around the globe, which can cut down on travel expenses. It also boasts stronger relationships by adding in a personal element that may not have been possible otherwise.
"From our examination of the workplace, we found that companies adopting strategic collaboration tools now will be two to five years ahead of the competition," said Melanie Turek, Frost & Sullivan's VP of Enterprise Communications & Collaboration Research. "Forward thinking organizations are seeing measurable value in advanced communications solutions that allow for true collaboration, leading to enhanced thought leadership, customer support and productivity."
Frost & Sullivan says that new technologies are causing people to reevaluate how they approach meetings and collaborative work. Video conferencing allows for that flexibility and accessibility users need to quickly solve problems and make decisions.
For more information, contact Frost & Sullivan about purchasing a copy of the "Identifying the Value of Video Collaboration: Critical Steps for Supporting Social Business" white paper.
Latest Resource
6 Reasons Why Your Space Needs a Lampless Projector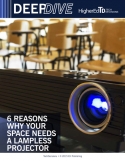 Lampless Projectors Are Appearing Your Conference Room, Classroom and Worship Space