Shure ULX-D Wireless Microphone System
Shure's new ULX-D incorporates 24-bit/48kHz digital technologies and a 120dB of dynamic range to deliver a crystal-clear wireless audio performance.
Latest News
University of California Scales Video Wall Obstacles with New Peerless-AV Video Wall
The Learning Glass Studio Comes to San Diego State University
Lone Star College Installs World's First UltraHD Quadview Classroom
How Audio Visual Technology is Changing the Face of Varsity Sports
Latest Resource
6 Reasons Why Your Space Needs a Lampless Projector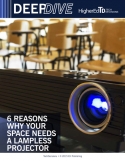 Lampless Projectors Are Appearing Your Conference Room, Classroom and Worship Space
TechDecisions
·
March 1, 2012
Shure incorporates features such as frequency scanning, intelligent battery technologies and security encryption in its ULX-D wireless microphone line of products.
Over the past few years, the consumer and professional audio communities have been greatly impacted by the rapid develop of digital audio technologies.
Shure's latest wireless microphone line of products, the ULX-D, is designed to leverage state-of-the-art digital audio technologies to provide electronics professionals with a good sounding and reliable wireless microphone platform.
The ULX-D incorporates 24-bit/48kHz digital audio technologies that enable the system to produce a dynamic range of 120dB. The system also incorporates encryption that enables electronics professionals to create a secure communications solution that works with a variety of the company's microphones, including its popular SM58 dynamic vocal microphone.
Shure says the products incorporate 60 channels of communication on a single frequency band and the line is designed to provide reliable performance for more than 100 meters in a line-of-sight environment.
The ULX-D can be used for clubs, bars, restaurants and other environments that require an easy-to-use wireless microphone solution.
Latest Resource
6 Reasons Why Your Space Needs a Lampless Projector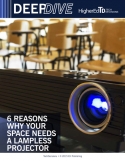 Lampless Projectors Are Appearing Your Conference Room, Classroom and Worship Space