Score Casio's Signature XJ-M255 Projector Absolutely Free
The company will give away one unit per month as part of the Lamp Free Projector Sweepstakes.
Latest News
The Institute of Culinary Education Serves Better Content Delivery with T2 Computing, iPads
New Sound System Wows Visitors, Encourages Mixing at NMU
3 Ways Video Makes Online Learning More Engaging, from the Kaltura Connect Education Virtual Summit
The University of Liverpool Improves New Conference Space with Upgraded Audio
Latest Resource
6 Reasons Why Your Space Needs a Lampless Projector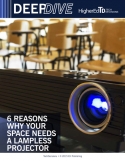 Lampless Projectors Are Appearing Your Conference Room, Classroom and Worship Space
TD Staff
·
April 12, 2012
Buying a new projector can be expensive. How's free sound? Casio is planning to give away a few projectors during its Lamp Free Projector Sweepstakes.
Starting in April, Casio will give away one of its Signature XJ-M255 projectors each month. The retail value of this model is $1699.99.
Designed for use in large and small rooms, the XJ-M255 projector features a laser, a fluorescent element and LEDs. That combination results in a mercury-free LASER & LED Hybrid Light Source promising high brightness.
Other features include 3000 lumens, a 1280 x 800 resolution, 1.5X manual zoom, and 20,000 hours of anticipated life.
"We are delighted to award a lucky recipient each month with one of Casio's cutting edge lamp free projectors," said Matt Mustachio, general manager of Casio's Business Projector Division. "Casio is committed to providing consumers with the opportunity to experience a new era in projector technology."
Of course, you have to play if you want to win. Just fill out a little info on the Lamp Free Projector Sweepstakes page. The contest will run through September 30, 2012.
Latest Resource
6 Reasons Why Your Space Needs a Lampless Projector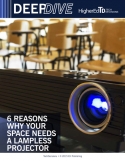 Lampless Projectors Are Appearing Your Conference Room, Classroom and Worship Space