Planar Gets Creative with Mosaic Video Wall
The thin video wall solution offers flexibility to position LCD tiles into unique arrays.
Latest News
Projectors 101 — The Basic Knowledge You Need for Your Higher Ed Solution
TechDecisions Guide to 28 Short-throw and Ultra-short-throw Projectors for Higher Ed
The Institute of Culinary Education Serves Better Content Delivery with T2 Computing, iPads
New Sound System Wows Visitors, Encourages Mixing at NMU
Latest Resource
6 Reasons Why Your Space Needs a Lampless Projector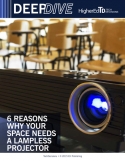 Lampless Projectors Are Appearing Your Conference Room, Classroom and Worship Space
TD Staff
·
March 21, 2012
Think that a video wall is pretty eye-catching? Just wait until you see Planar's Mosaic.
This new video wall solution adds a modern, eye-popping element to any display. It also throws in the option for some pretty funky positioning.
Adding architecture and design into the video wall category, the Mosaic line features three different flat-panel tiles, including one square LCD that measures 21.6 inches on the diagonal. Those different shapes can work together to create a standard display or something unique that people will certainly remember.
That square tile LCD is the Planar Salvador, which measures 15.6 inches on each side and has a 1:1 aspect ratio. The Planar Vincent and Planar Pablo are the rectangular models, measuring 48 and 40 inches, respectively.
Thanks to proprietary Mosaic Ensemble software and hardware, the tiles can be twisted and turned to almost any angle. The entire line also includes LED backlighting, so you can create that super-cool display without breaking the bank.
"The new Planar Mosaic elevates video from the realm of information to one of inspiration, and will allow installations and designs never before possible," said Jennifer Davis, vice president of marketing at Planar Systems. "Planar is changing the rules, creating a new category of thin architecture video displays."
Expect Planar's network of resellers to start carrying the Mosaic line this spring.
Latest Resource
6 Reasons Why Your Space Needs a Lampless Projector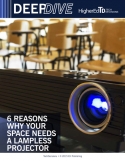 Lampless Projectors Are Appearing Your Conference Room, Classroom and Worship Space