Logitech Goes Big With LifeSize Video Conferencing Platform
The brand recently unveiled LifeSize UVC Platform, which combines several products in one software interface.
Latest News
Projectors 101 — The Basic Knowledge You Need for Your Higher Ed Solution
TechDecisions Guide to 28 Short-throw and Ultra-short-throw Projectors for Higher Ed
The Institute of Culinary Education Serves Better Content Delivery with T2 Computing, iPads
New Sound System Wows Visitors, Encourages Mixing at NMU
Latest Resource
6 Reasons Why Your Space Needs a Lampless Projector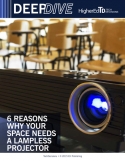 Lampless Projectors Are Appearing Your Conference Room, Classroom and Worship Space
TechDecisions
·
February 28, 2012
Logitech is best known for some of its computer accessory products. Now, they are going big into enterprise with LifeSize.
LifeSize is actually a division of Logitech—one that just launched a software solution that could change the face of video conferencing. The LifeSize UVC Platform aims to combine several single-purpose infrastructure products into one easy software interface. Hence, the UVC title, which stands for universal video collaboration.
The idea is to have all of LifeSize's applications available from one interface, with one login account. Then, it's available and can be upgraded as needed. The end result promises to make buying and deploying video conferencing infrastructure more flexible and efficient, as well as cost-effective.
"Since inception, LifeSize has consistently delivered industry firsts," said Colin Buechler, chief executive officer of LifeSize and Logitech senior vice president. "We were first to HD, first with one button streaming and recording, and now we are redefining video conferencing infrastructure. By responding to the needs of our customers, LifeSize has fundamentally changed the way businesses deploy infrastructure, unlocking the door to real adoption and growth in the video conferencing industry."
Designed to be both scalable and customizable, the UVC Platform includes infrastructure applications ranging from HD streaming and recording, firewall/NAT traversal, and Gatekeepers (routing and control).
No hardware is included in the initial LifeSize UVC Platform, which starts at $3,999. The company is also offering a try before you buy option, with a 30-day free trial.
Latest Resource
6 Reasons Why Your Space Needs a Lampless Projector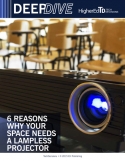 Lampless Projectors Are Appearing Your Conference Room, Classroom and Worship Space