Lecture Capture Allows ENMU Professor Make House Calls
A rural, regional university uses videoconferencing to make higher education accessible to remote students.
Photos & Slideshow
Lecture Capture Allows ENMU Professor Make House Calls
Video News
3 Ways Video Makes Online Learning More Engaging, from the Kaltura Connect Education Virtual Summit
Kaltura Connect Education Virtual Summit: How to Set Up for Successful Video-Based Learning
Lecture Capture Technology Keeps Brick & Mortar Campuses Relevant Despite the Digital Campus Culture
NEC Displays New Interactive Solutions at InfoComm2015
Video Resource
The Challenges of Interfacing HDMI in the World of Professional Audio/Video

White Paper from TechDecisions and Kramer to learn how to overcome the challenges that HDMI presents in a multi-point distributed Audio/Video installation.
Leslie O'Neill
·
May 23, 2013
Four hours southeast of Albuquerque, in the eastern plains of New Mexico, a small university is using videoconferencing technology to extend its reach past its isolated location. Eastern New Mexico University (ENMU) is in Portales, a rural town near the Texas border that's rich with ancient history. Since it opened in 1934, ENMU has welcomed a culturally diverse student body and strives to make higher education accessible to non-traditional students, no matter where they happen to live. To that end, ENMU is breaking new ground by enhancing its distance education offerings with lecture capture technology that brings the professor to the student.
ENMU currently offers seven online Bachelor's degrees and 14 online Master's degrees, and is turning many of its classes into hybrid offerings that combine traditional online classes with embedded videos of archived lectures. Lecture capture allows ENMU to offer both synchronous (live) and asynchronous (on-demand) online classes.
"Distance education is integral to the university. For a lot of schools, distance education is to increase numbers, but here, because of our rural location and the students we serve are scattered in sparsely populated areas, it's not an option to commute to a college campus. If we want to fulfill our mission as a regional university, we have to reach these people," says Dr. Mary Ayala, dean of the College of Liberal Arts and Sciences (CLAS) at ENMU. She has served as dean of the largest college on campus for seven years.
At ENMU, online classes and classroom-based classes are both the norm, intermingled in a student's course credits as equals. Unlike other established state and regional universities, ENMU has a long history of using technology to offer fully accredited degrees.
"Our university is kind of remote, so we've been doing distance education in one form of another for decades [to reach] non-traditional students who're raising children, working full time or for those who just can't drive four hours to take a class," says Ayala. Almost every one of ENMU's 6,000 students takes at least one course in the CLAS, which covers general education areas like math, literature, history and languages.
"Almost all of the students end up taking on online class in their career," says Ayala, even if they're not enrolled in an online degree. "There are many reasons — a course conflict or the only class that has space may be a distance ed class."
Before 2011, ENMU offered distance education through interactive instructional television (ITV), which provided a two-way synchronous audiovisual connection between professors and students. Although it allowed students to create a rapport, it required them to report to a specific site at a specific time — that classroom just didn't happen to be on the main ENMU classroom — and no longer provided enough flexibility for today's non-traditional students to complete their education.
ENMU is a Federally designated Hispanic-Serving Institution and a member of the Hispanic Association of Colleges and Universities. In addition, in October 2010 it received a $3 million Title V PPOHA (Promoting Post-Baccalaureate Opportunities for Hispanic Americans) grant from the U.S. Department of Education to enhance Hispanic students' access to grad school. A major component of the five-year grant was to expand and improve its online grad-level offerings, so ENMU invested in Sonic Foundry's Mediasite lecture capture technology. The PPOHA grant funded the purchase of four Mediasite recorders with accessories that support live classroom instruction and webcasting with streaming audio, video and content capture to post online.
"Lecture captures gives us the flexibility to deliver asynchronous learning to any student with a computer. [They decide] when and how they could take their classes. That seemed even more important for graduate students, in terms of the grant," says Ayala. Before long,
More About Chrissy Winske
Chrissy Winske is the K-12 editor for TechDecisions Media. She is also a contributing writer for Commercial Integrator, TechDecisions' sister publication. Chrissy joined the TD family in 2012 and has covered AV and IT trends, mobile learning, safety and security and the digital classroom. Get in Touch:

[email protected]

More by Chrissy Winske
Latest Resource
6 Reasons Why Your Space Needs a Lampless Projector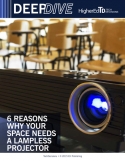 Lampless Projectors Are Appearing Your Conference Room, Classroom and Worship Space