Gesture, Non-touch Digital Signage to Become a Reality?
Digital Signage Expo 2012: The future of operating systems will be gesture-based digital displays like those in "Minority Report."
Credit: Photo courtesy of jurvetson/Flickr
Credit: Photo courtesy of jurvetson/Flickr
Digital Signage News
University of California Scales Video Wall Obstacles with New Peerless-AV Video Wall
University of Manchester Installs 350-Room Lecture Capture Solution To Meet Students' Learning Needs
Kaltura Connect Education Virtual Summit: How to Set Up for Successful Video-Based Learning
5 Functions That Make a Successful Video Solution for a College Classroom
Digital Signage Resource
Deep Dive: 6 Mistakes End Users Make with Their Projectors and How to Fix Them

This guide reveals the top 6 mistakes end users make with their projectors, along with advice from projector experts on how to fix and avoid those mistakes.
Lisa Nadile
·
March 14, 2012
If you're interested in digital signage, then you probably remember the movie "Minority Report" with Tom Cruise and Colin Farrell. It was a good movie, but Steven Spielberg's decision to tap future-thinking thought leaders to help him design what life would be like in the year 2080 took it to the next level. Ten years ago, we saw the future of displays, which included talking personal-based advertising and the movie's leading conceit: transparent displays in which the information was controlled by gestures. Tom Cruise would stand in front of a huge display and, by using a gesture-based "language" (that was actually developed for the movie by engineers) he would sift through text and video to find where future crimes would occur.
The man who helped design that aspect of the movie, John Underkoffler, Chief Scientist of Oblong Industries, delivered the opening keynote the 2012 Digital Signage Expo on March 7, 2012. A graduate of MIT, Underkoffler made his mark at the school in the mid 90s by trying to
Latest Resource
6 Reasons Why Your Space Needs a Lampless Projector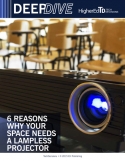 Lampless Projectors Are Appearing Your Conference Room, Classroom and Worship Space