Fast Forward Video Debuts sideKick HD DVR
The camera-mountable digital video recorder can be paired with a variety of camcorders.
Latest News
The Institute of Culinary Education Serves Better Content Delivery with T2 Computing, iPads
New Sound System Wows Visitors, Encourages Mixing at NMU
3 Ways Video Makes Online Learning More Engaging, from the Kaltura Connect Education Virtual Summit
The University of Liverpool Improves New Conference Space with Upgraded Audio
Latest Resource
6 Reasons Why Your Space Needs a Lampless Projector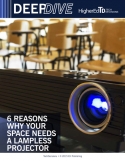 Lampless Projectors Are Appearing Your Conference Room, Classroom and Worship Space
TD Staff
·
April 10, 2012
Sometimes even the best cameras could use a little sidekick. Fast Forward Video (FFV) just introduced the sideKick HD, a camera-mountable digital video recorder (DVR).
According to FFV, the sideKick HD can record content at 220Mbps at only 7:1 compression—for an extremely lifelike image.
Like most DVRs, the sideKick HD can record to any off-the-shelf, hot-swappable 2.5-inch SSD drives in the standard NLE formats. Bringing files into the NLE environment is a simple matter of moving the disk from the sideKick HD to the computer; no time-consuming ingest or transcoding operations are required.
Featuring a small footprint and flexible mounting options, the sideKick HD has a 4.3-inch with an on-board monitor for playback options, as well as scrub and jog capabilities.
At the recent 2012 NAB Show, the sideKick HD proved to work well with a variety of camcorders. Panasonic, Sony and For-A were just a few companies incorporating the sideKick HD into their camera displays.
Latest Resource
6 Reasons Why Your Space Needs a Lampless Projector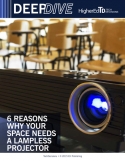 Lampless Projectors Are Appearing Your Conference Room, Classroom and Worship Space