Extron Electronics is Branching Out and Hiring
The company plans to open new facilities in five North American cities.
Control & Automation News
The Difference Between VMS and PSIM, and How Both Can Boost Physical Security On Campus
Implementing Mass Notification Technologies in Compliance with NFPA 72
Hofstra University Moves to Turnstile Entrances to Upgrade Access Control
How Colleges Use Sustainability Technologies to Grow a Green Culture on Campus
Control & Automation Resource
NSCA Offering Free MNEC Symposium Registration

Education Foundation sets aside money to cover costs of attendance for integrators, AHJs.
TD Staff
·
March 22, 2012
Get out the welcome wagon. Extron Electronics could be coming to a city near you very soon—as a permanent resident.
The company just announced plans to open five new training and product demonstration facilities across North America. The new operations will open in the Chicago, Dallas, New York, Silicon Valley, and Toronto areas.
As a result, the company is looking to staff those new locations. Extron says it's actively looking to hire system design engineers and sales, support, and training staff for each of those facilities.
The news comes hot on the heels of the recent announcement that Extron was pulling out of the Infocomm USA and ISE Integrated Systems Europe tradeshows. Andrew Edwards, president of Extron, addressed the move in an online announcement noting that, "2011 was a record year for Extron."
Each new location will include classes and hands-on training and courses. Expect the Dallas location to open in late summer, with announcements on the rest coming soon. Extron's corporate headquarters is located in Anaheim, California, with its East Coast operations in Raleigh, North Carolina, and an office in Washington, DC. Once the expansion is complete, Extron will have a total of 27 offices worldwide.

"These new facilities will bring us closer to so many more people," says Edwards. "It will be much easier for our customers in the United States and Canada to attend training courses and learn about products at convenient times and locations. Our objective is to see that our customers receive the support needed to be successful and get the job done."
Latest Resource
6 Reasons Why Your Space Needs a Lampless Projector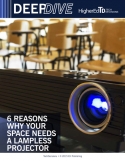 Lampless Projectors Are Appearing Your Conference Room, Classroom and Worship Space