Emmanuel College Goes Mobile with Internet Radio Broadcasting
With a Mac, mixer and microphone the college has a mobile studio.
Latest News
The University of Liverpool Improves New Conference Space with Upgraded Audio
University of California Scales Video Wall Obstacles with New Peerless-AV Video Wall
The Learning Glass Studio Comes to San Diego State University
Lone Star College Installs World's First UltraHD Quadview Classroom
Latest Resource
6 Reasons Why Your Space Needs a Lampless Projector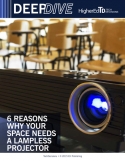 Lampless Projectors Are Appearing Your Conference Room, Classroom and Worship Space
Chrissy Winske
·
August 20, 2014
For colleges looking to get into traditional radio, the options are pretty slim. If you don't already have a terrestrial radio station, you're probably not going to get one.
"There are so few left on the dial and the FCC really tightly controls who gets radio stations," says Lisa Falvey, an English professor who teaches production classes at Emmanuel College. "Licensure practice is really difficult to get through and so it's really difficult for most college campuses now and for anybody to get a terrestrial station."
For schools that can't broadcast the traditional way, Internet radio is a good alternative.
Emmanuel College has a thriving Internet radio broadcast with over 60 hours of unique programming and listeners on almost every continent. The college began broadcasting in
2005, but it wasn't until last year that the school found a technology that truly fit its needs.
"When we started we were using another service. They were deeply problematic for us. They were expensive, unstable, and we generally were not successful with it as a technology," says Falvey.
The software went down sporadically making it unpredictable. Further adding to the college's dissatisfaction, the software provider had begun charging listeners to gain access to premium stations. Emmanuel began looking into other options and eventually selected a software solution from Backbone.
"A college across the Fenway, Simmons uses it. We made some initial contact with them and they really raved about it," says Falvey. "They took us to their station and showed us how it worked and they gave us a great recommendation for it. It seemed the natural way to go."
How Does it Work?
In order to create a traditional radio broadcast, you need a studio with a mixing console, an assortment of microphones, a transmitter, etc. With an Internet radio station your computer and broadcasting software become your studio. You just need to add a small mixer and a microphone. The transmitter is the cloud servers and the radio set or box top is the listener's
More About Chrissy Winske
Chrissy Winske is the K-12 editor for TechDecisions Media. She is also a contributing writer for Commercial Integrator, TechDecisions' sister publication. Chrissy joined the TD family in 2012 and has covered AV and IT trends, mobile learning, safety and security and the digital classroom. Get in Touch:

[email protected]

More by Chrissy Winske
Latest Resource
6 Reasons Why Your Space Needs a Lampless Projector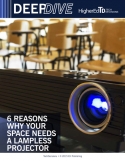 Lampless Projectors Are Appearing Your Conference Room, Classroom and Worship Space