DSE 2012: New Digital Signage Media Players
A round-up of some new media players showcased at this year's Digital Signage Expo.
Photos & Slideshow
DSE 2012: New Digital Signage Media Players
Digital Signage News
University of Manchester Installs 350-Room Lecture Capture Solution To Meet Students' Learning Needs
Kaltura Connect Education Virtual Summit: How to Set Up for Successful Video-Based Learning
5 Functions That Make a Successful Video Solution for a College Classroom
College: Big Business or Higher Education Institution?
Digital Signage Resource
Deep Dive: 6 Mistakes End Users Make with Their Projectors and How to Fix Them

This guide reveals the top 6 mistakes end users make with their projectors, along with advice from projector experts on how to fix and avoid those mistakes.
Maxine Giza
·
March 12, 2012
Digital signage displays would be nothing without the media players that deliver stored content, generated by local software, from a network feed or a mix.
Players may be built-in to an all-in-one digital sign, or be small-form-factor computers tucked neatly behind… or be elsewhere, connected by a wired or wireless network. Local players are especially critical for digital signage applications where network connectivity is unavailable or unreliable.
Having trouble selecting the right media player? Take a look at some of these new solutions that were on display at DSE 2012.
Latest Resource
6 Reasons Why Your Space Needs a Lampless Projector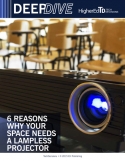 Lampless Projectors Are Appearing Your Conference Room, Classroom and Worship Space