Avid Studio for the iPad
Avid has released an app version of its popular Studio video software program.
Latest News
UMass Medical School Invests in Projectors, Lecture Capture Solutions to Foster Collaboration
Educational Discount: iTeacherBook – Best Teacher Planner
Mills College Installs New Sound System to Support Musical Experimentation
Sister Site Commercial Integrator to Host Free Projector Webinar This Week
Latest Resource
6 Reasons Why Your Space Needs a Lampless Projector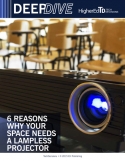 Lampless Projectors Are Appearing Your Conference Room, Classroom and Worship Space
TechDecisions
·
February 28, 2012
Without a single shred of doubt, Apple is the hottest corporation in the world and a large part of its current success is because of its revolutionary iPad tablet.
Avid is another trendsetting company that is known for its many powerful software tools. Recently, the company introduced an iPad version of its popular Studio video editing software.
The newly released Avid Studio App is available on the iTunes App Store for a nominal cost and is designed to provide everyone from soccer moms to veteran video editing pros, a solution that's easy to use and portable. The app enables users to start video editing projects and to edit existing projects through timelines with options for soundtracks, effects and provisions to post to social media websites. The app works with Apple's iPad Camera Connection Kit to easily import projects that have been stored on a PC.
The Avid Studio app for the iPad is a convenient solution that video professionals can use to quickly edit and post videos
Latest Resource
6 Reasons Why Your Space Needs a Lampless Projector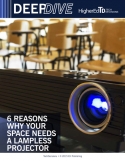 Lampless Projectors Are Appearing Your Conference Room, Classroom and Worship Space