6 Tips for Building Distance Learning in Higher Ed
Advice on which technologies you need and how to use them effectively.
Photos & Slideshow
6 Tips for Building Distance Learning in Higher Ed
Latest News
UMass Medical School Invests in Projectors, Lecture Capture Solutions to Foster Collaboration
Educational Discount: iTeacherBook – Best Teacher Planner
Mills College Installs New Sound System to Support Musical Experimentation
Sister Site Commercial Integrator to Host Free Projector Webinar This Week
Latest Resource
6 Reasons Why Your Space Needs a Lampless Projector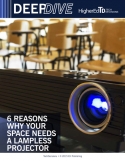 Lampless Projectors Are Appearing Your Conference Room, Classroom and Worship Space
Chrissy Winske
·
February 4, 2013
Distance Learning has emerged as a major trend in education, especially for colleges and universities looking to diversify curriculum delivery. Schools create the ability for students to learn remotely through the help of technologies like a videoconferencing or telepresence system, a learning management system or online learning environment and lecture capture. Distance education allows schools to move courses online and free up resources. It also provides the opportunity to bring in a guest lecturer from outside the campus community.
At many higher education institutions, distance education opportunities lie within a blended learning environment. Here, courses are not designated as distance classes or traditional classes. Courses contain a little bit of both and students are not required to complete their degree in one program over another. Many classes are a combination of online learning and face-to-face instruction. Others are strictly one or the other. It's up to each individual school to decide how to roll out distance technology and no one approach is right for everyone.
The three following articles serve as a guide to your school in developing distance education. The first article "Distance Education for Higher Ed Institutions" is a basic overview of distance learning technologies. It will help you assess what your school needs to get started. The second article "Building a Blended Learning Environment at NCSU" is the story of North Carolina State University, an early adopter of distance education. It will show you how one school built and continues to evolve its program.
The last article is "A Web Video Making Primer." Video is a huge part of distance and online learning and this article offers tips on how to make a quick and easy video to communicate with students.
Download: Learn Long and Prosper with Lecture Capture Solutions for Distance Learning

More About Chrissy Winske
Chrissy Winske is the K-12 editor for TechDecisions Media. She is also a contributing writer for Commercial Integrator, TechDecisions' sister publication. Chrissy joined the TD family in 2012 and has covered AV and IT trends, mobile learning, safety and security and the digital classroom. Get in Touch:

[email protected]

More by Chrissy Winske
Latest Resource
6 Reasons Why Your Space Needs a Lampless Projector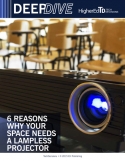 Lampless Projectors Are Appearing Your Conference Room, Classroom and Worship Space